WEKA DK1603 Core drilling machine is available in our diamond tools specialist trade in Recklinghausen NRW or by shipping / express. To get an offer please fill our request form or just call us!
For private customers we recommend our extensive

Online-Shop with a huge range of similar products.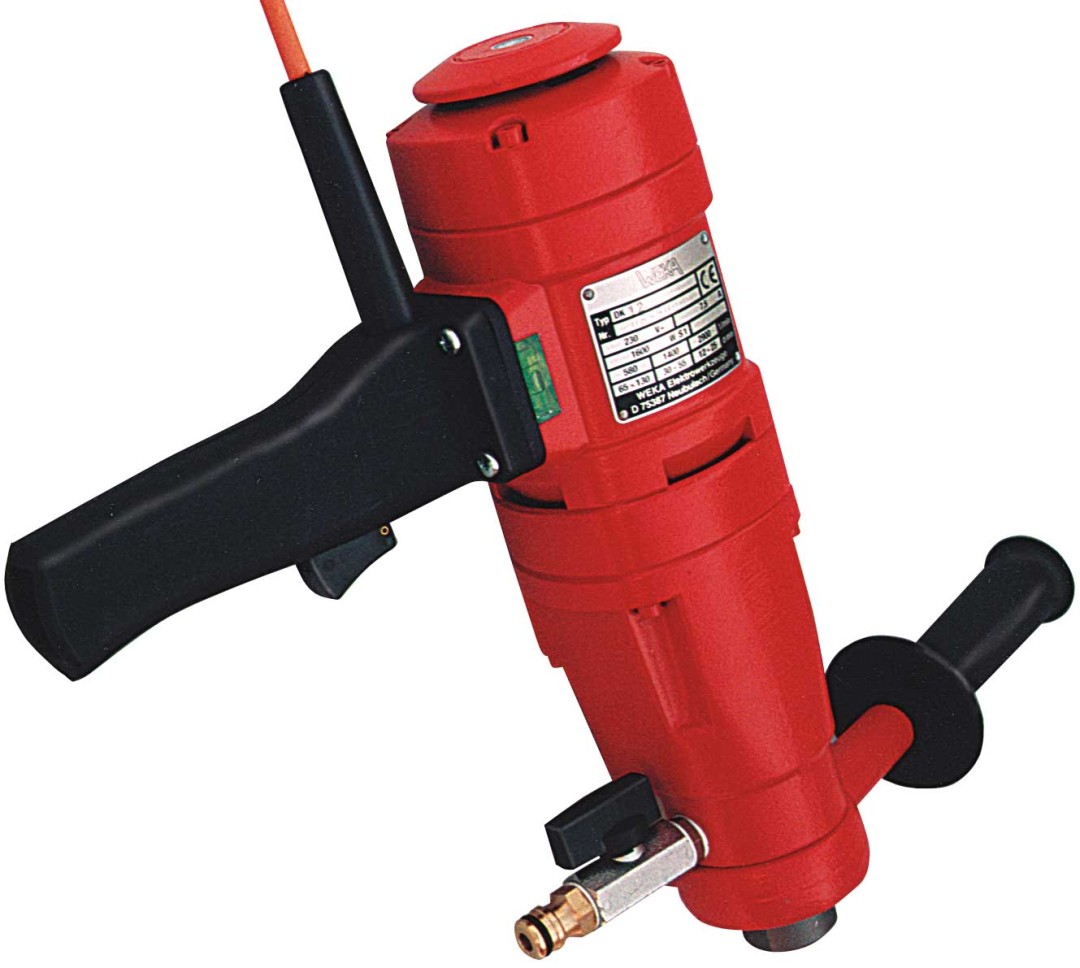 WEKA DK16 Kernbohrgerät handgeführt
Product description
WEKA DK1603 core drilling machine free-handed 2.000 W / wet/ R 1/2 " + 1 1/4 "
WEKA DK1603 core drilling machine
WEKA DK1603 is a variantion of DK16. The difference is that this machine has a combination spind with the arbor 1/2″ and 1 1/4″. The regular DK16 only got a 1/2″ arbor.
Make a request now

Our specialist trade product are for professional users like drill and cutting companies. For private customers we recommend our


Diamond tools Online-Shop
Adaption:
Application:
Technical Details
Ø Concrete (hand-held)
20 – 160 mm
More informations about our core drilling machines
High quality core drilling machines for professional users.
DK16 – universal Diamond core drilling machine 
For hand-held, or rig mounted drillings 
DK18 – rif mounted core drilling machine
DK16 and DK18 are characterised by a huge drilling capacity and a wide drilling range up to 160 mm. All variations have got following features:
3 – Gear gearbox
Wide drilling range.
Oil-bath lubrication
Ideal gear lubrication and a long lifetime.
Overload clutch
Protects operator, machine and tools for mechanical overload.
Intellitronik
Smooth start avoids to high starting current. If the operator  passes the overload threshold, the machine shows that the feed force should lowered. If the threshold is still passed the machine turns off.
Leveling help
Exact purpose of horizontal and vertical position of the machine.
Full metal housing
Motor and gear are packed in a aluminium housing.
WEKA and enviorment
WEKA electronical tools are primary out of steel and aluminium. Weka machines have got a high lifetime. The machines are recyclable up to 90%.
Electrical safety 
WEKA diamond core drilling machines comply the European directive
Triple electrical protection – protective insulation – protective conductor –  circuit breaker
Product request for commercial customers: