WEKA SR7508 JUMBO Core drilling machine is available in our diamond tools specialist trade in Recklinghausen NRW or by shipping / express. To get an offer please fill our request form or just call us!
For private customers we recommend our extensive

Online-Shop with a huge range of similar products.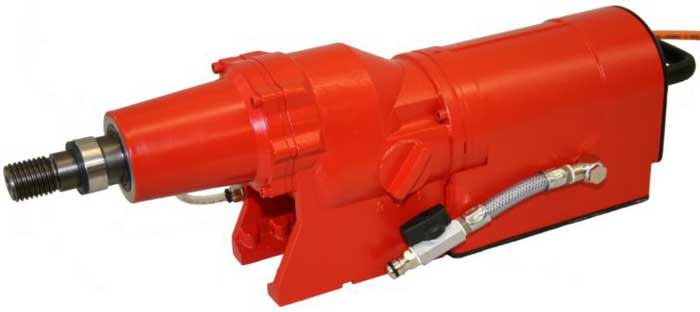 WEKA SR 7508 Jumbo Profi Kernbohrmotor
Product description
WEKA SR7508 JUMBO core drilling machine rig mounted 7.500 W / 400 V / wet / 1 1/4 " 3 - gear arbor M33/3
WEKA SR7508 JUMBO Core drilling machine
My name is WEKA SR7508. My motor is a  further development of the WEKA SR motor. I have a high performance of 7,5 kW and a just weigh just 19,5 kg.
Make a request now

Our specialist trade product are for professional users like drill and cutting companies. For private customers we recommend our


Diamond tools Online-Shop
Application:
Technische Daten
Performance
7500 W / output power: 5700 W
Motor stage 2
80/160/250 (rated  speed)
Motor stage 3
100/195/300
length (without handle)
620 mm
SR Motor
My motor based on switched reluctance principle. My stator is very robust. My engine is resource saving, almost just out of steel and copper. I am able to hold the speed almost for the whole power range.
Keyboard and Display
With my robust membrane keypad, the drilling diameter is easy to choose. The suitable speed will be showed  on the display.
Motor Protection
I cant get overload. If i don't get cooled enough, I am able to turn myself off.
Error output
With my display i show my operator, which error i got.
3-Gear Gearbox
wide drilling range.
overload clutch
My coupling protects the operator, the drilling tools and myself from a mechanical overload.
water cooling
my engine is cooled with water. The electrical safety is still  guaranteed.
metal housing 
My skin is completely out of cast aluminium. Because of it, I am really robust.
Service
The in the microcontroller integrated hour counter let me work 300 hours non stop. After that i show my operator that i need a service.
As a Jumbo SR 75 i am not just robust i am splash-proof to IP65 as well.
Product request for commercial customers: